Secara jujur, aku sangat gila handbag. Ada certain orang kan gila kasut. Aku ada member yang memang gila kasut sampai berkotak-kotak dia beli, tapi tak semua dia pakai. Sebut pasal handbag, aku memang gila handbag Roxy especially wallet dia. Tapi, menyesal tak beli handbag bowling Charles & Keith yang design before ni. Sangat-sangat menyesal sebab masa belek-belek tu rasa saiz dia macam besar je. Tapi, haritu ada budak ni pakai cantik gila!! Huwaaa! Puas cari memang tak ada dah.
10. Fendi Selleria Bag - RM

117629.00
Description:
It has a lot of space to keep a wallet in which you can keep your money safe, cell phone, some makeup stuff etc. It can be especially on order with
sable and chinchilla
which are the
most expensive and rare most skins of animals
.
09. Gadino Bag by Hilde Palladino - RM

119083.88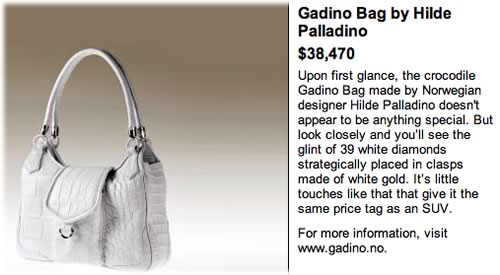 08. LV tribute Patchwork Bag - RM

130011.00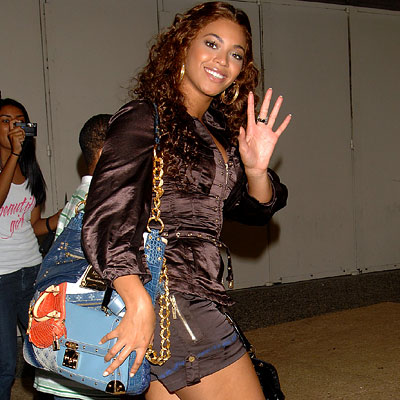 The Tribute Patchwork was created with the idea of paying tribute to some of LV's handbags that were released in the past, thus, the different bags and purses that you see that were fused together to form one bag. It also sports a gold chain, a $42,000 price tag and its rarity of having only 24 pieces made add more value to the stock of this celebrity handbag.
07. Leiber Precious Rose Bag - RM

284786.00
There is only one quantity of this bag available in this world. Its body has a perfect shape of a beautiful pink rose. This bag has 1,016 diamonds with the total of 42.56 carats, 1,169 pink sapphires and 800 tourmaline's embellished on its body.
6. Hermes Matte Crocodile Birkin Bag – RM

371460.00
This beautiful handbag is named after a British singer/actress Jane Birkin. The bag skin is made from crocodile skin itself. It is also available in a cheaper version worth of $5000. The clasps of the total of its body have 10 carats of white diamonds on its front.
5. Urban Satchel Louis Vuitton Bag - RM

464325.00
It is basically a sort of trash and junk type of stuff made in such a way that it is created from almost all types of City junks and some sort of raw junk e.g. water bottles, tea bags, cigarette packets and band aid. The bag contains Green environment mission and recycle.
4. Lana Marks Cleopatra Bag – RM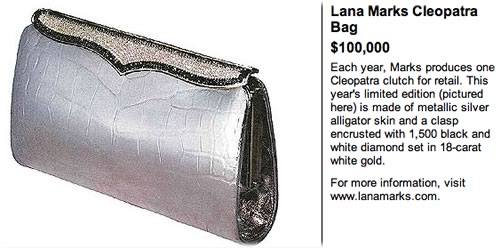 3. The Chanel "Diamond Forever" Classic Handbag – RM
There are only 13 limited editions of this handbag made worldwide and USA has 5 of them. This handbag contains 334 diamonds with a total of 3.56 carats contained in 18-carat pure white gold. Also the shoulder straps of the handbag are made from white gold.
Its price is worth of $261,000.
2. The Hermes Birkin Bag Created by Japanese Designer Ginza Tanaka – RM
A Japanese designer created this expensive handbag for rich ladies, which contains 2,000 diamonds and most of the material used in the bag is platinum. It contains a unique beauty with its strip which can be detached and can be worn as a bracelet or necklace. Its price worth is $1,800,000.
1. Mouawad's 1001 Nights Diamond Purse – RM
1001 Nights Diamond handbag has been recorded in the Guinness Book of World Records as it the most expensive and pretties handbag among all other for which any women would go dying. It carries 4,517 diamonds and 18-carat of gold in its skin and its worthiest price is $3,800,000.
Yang mana yang korang suka?
Yang no 5 tu macam pelik jeee.. Actually its worth money buying designer handbags ni. Aku bukan lah cakap suruh beli yang mahal-mahal macam Chanel, LV, Gucci tu.. Tapi, brand macam Roxy, Mango, Charles & Keith etc pun dah cukup. Sebab aku pernah beli yang harga RM35 tak sampai seminngu dah putus tali. Tapi, depends lah, ada orang suka tukar-tukar handbag, so memang suka beli yang biasa-biasa dalam kuantiti yang banyak kan? Tapi, kalau sekali dah beli yang mahal, tak rasa nak tukar dah sebab sayang duit dah labur ratus pada handbag tu, sampai lah bag tu koyak/rosak!
Tak Nak Komen, LIKE Pon Boleh :)
---
Sudah Baca Harap Balas :)
---